Former WC grad headlines comedy show in Washington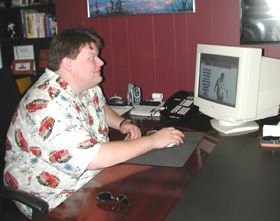 Rob Busboom laughs about his funny website in which he tells a life story that is far removed from reality. Busboom writes all his own comic material and says he is looking forward to seeing old friends at the show he is headlining in Washington---Photo By Kelly Overton
By Linda Perry, Staff Writer
Rob Busboom is funny even when he's being serious. And the story he tells about his path to becoming a stand up comedian is absolutely hilarious. The Washington Catholic grad who went on to study physics at Purdue University will do his stand up comedy routine at the Knights of Columbus, Fourth and Main in Washington, on April 27 at 7:30 p.m. and 10 p.m.
His website bio states he is the child of secret agents who stole the formula for Twinkies and then fled to Indonesia before moving to Indiana and producing two genetically enhanced children.
Busboom -- real name Rob Larkin -- studied physics for two years before deciding on a 180 degree turn resulting in a new career direction. He found he couldn't even use his real name because there was another comedian with the name Ron Larkin and things got...well, a little confusing to put it mildly.
Busboom -- personal motto: "Just do it...later" -- declares he is a comedian, actor, writer, and awesome lover. His friends call the 6-foot-4-inch (if he stands up straight) entertainer "The Hurricane."
Asked by Daviess County Sheriff's Detective Ron Morgan to do a comedy show in Washington, Busboom, who had met the police officer at Washington Catholic bingo, agreed.
Busboom has appeared with television stars Kevin Meany, Jimmy Walker and Gabe Kaplan and has been a guest on the Bob and Tom radio show. (Inside scoop: Bob and Tom are quieter in person than their radio personas would suggest.)
Billing himself as the world's second funniest comedian -- number one is already copyrighted by James Gregory -- Busboom admits his true childhood was a little different than his website would lead one to believe. He is not the son of secret agents. His father, Bill Larkin, who lives in Loogootee, is a computer scientist at Crane Naval Weapons Center, and his mother is a nurse practitioner in Wichita, Kan. His sister has a master's degree in electrical engineering. And Busboom was in the honors physics program at Purdue for two years before he switched to getting a degree in creative writing.
Told that was quite a shift in direction, he remarked: "That's what everybody said."
What brought about the quantum change? He stutters, then says: "Alcohol. When I started college I was a social introvert, then as I continued on, I changed...and things like the theory of relativity are not as easy as they sound."
He had a couple of short stories published and hung around after graduation "until the lease ran out." He then returned to Washington and got a job on the sports desk at the Washington Times-Herald.
"I wasn't very good," he says ruefully. "I only lasted six weeks."
Whazzzup with that?
"I was creative. If I didn't know a fact, I'd make it up. That's why I got fired. And writing stories, I might do two short stories in six months, but at the paper I had a deadline."
And after getting the proverbial boot?
"I was depressed for a little while, but then I moved to Indianapolis and I was okay."
After landing a day job as a computer tech, he worked night spots at the One Liners Comedy Club in Greenwood. His first five-minute gig on stage at the comedy club came on March 10, 1997. He was 23.
"There were 54 people in the audience," he says. "And 22 of them were my friends who had come down from Purdue. One was from Detroit." He was offered a full-time job that night -- as a bouncer, which enabled him to hone his material and get more stage experience.
In March 1999, he quit his computer job with the Indiana Department of Health to begin his full-time comedy career. He was seldom home, doing shows all over the country.
The best part of his job?
"Working eight hours a week."
The worst?
"Road life. Every week it's a different city."
Busboom now lives in Los Angeles, where a trip to a local grocery often leads to chance encounters with famous people. He works the clubs in L.A. and his roommate dates a country music star. Television sitcoms are his goal, and he recently auditioned for ABC's new talent development division.
Onstage he is ebullient and animated, off stage quieter and more reflective. He says he tries to keep his 45 minute show "clean" and notes there is nothing in it a person wouldn't hear on television.
The emcee for the Washington show is another hometown boy, John Pitman, who graduated in 1960 from Washington High School.