Rob is a goofy kid from a small southern Indiana town. He went to Purdue University where he was an honors physics major until he turned 21. Then he switched to creative writing.
Rob is a former writer for the Washington Times Herald, who was fired for making up news. Since then, Rob has been working on a serious comedy career. "It seemed like the only logical thing to do because I have been making people laugh my entire life, whether I wanted to or not. I stepped on stage March 10th of 1997 and since then I have been onstage somewhere every week. I don't know what else I would do."
Rob has been in several commercials; a Hoosier Park Commercial where he played a large painted football fan, and a Prairie Farms Ice Cream commercial where he played an umpire.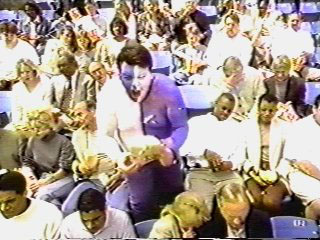 The last few years have been a flurry of activity. In 1997 and 1998 he made it to the finals in the Indianapolis Comedy Contest, and in 1998 he was selected as a Muscular Dystrophy Foundation Comedy Award Winner. In 1999 Rob participated in the MTV VJ II contest which lead to an interview on MTV. In March of 2001 he was a guest on The Bob and Tom Show a nationally syndicated radio program. Tom Griswold (Tom of Bob and Tom) was so impressed he asked Rob to write for the show.
Most Recently, Rob co-starred in the movie "Rice Girl". Rob played Meathead a down and out wrestler at the end of his career. The film will be part of the 2003 New York Film Festival and will definitely be a cult hit..

Rob's humor is clean, clever, creative, witty, and refreshing. He has been described as a combination between Louie Anderson and Chris Farley. He has worked with Emo Philips, Eddy Strange, Bob Zany, James Gregory, Bill Belamy, Dave Coulier, Kevin Meaney, Jimmy Walker, Gabe Kaplan Bill Kirckenbauer & Brad Sherwood.
Rob has also ventured out into cyber space with his own web site http://www.busboom.com. Rob is an up and coming comedian that you don't want to miss. Simply put Rob is a very, very funny guy!